Apple iPad Giveaway –Be The First To Get One!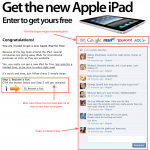 My God!!!
Det var da noget af en hoax.
En gruppe på Facebook lover at man er med i konkurrence om en gratis Apple iPad, og det er man sikkert også, men måden de har gjort det på stinker langt væk af snyd.
Det er vist noget, der skal graves dybere i…
Klik på billedet for at se nogle af fælderne
Læg i øvrigt mærke til
Ingen afsender på kampagnen
Ingen terms and conditions – de ligger på en ekstern side, som i øvrigt redirecter til en tredje side
Fake comment box – som åbner Facebooks invite box
Stærkt begrænsede muligheder for at kommentere på kampagnen