3D is the new Black
Nej, det passer egentlig ikke, men bag denne titel gemmer der sig en lille historie om min fredag aften.
Her var jeg nemlig med til LG's Optimus 3D launch Party på Park i København, hvor de præsenterede deres nye 3D telefon, der snart kommer på markedet.
3D effekten er helt fantastisk og kræver ikke specielle briller. Telefonen er desuden udstyret med to kameraer så den kan tage billeder og video i ægte 3D. Det er vildt imponerende og kan slet ikke beskrives. Det skal opleves!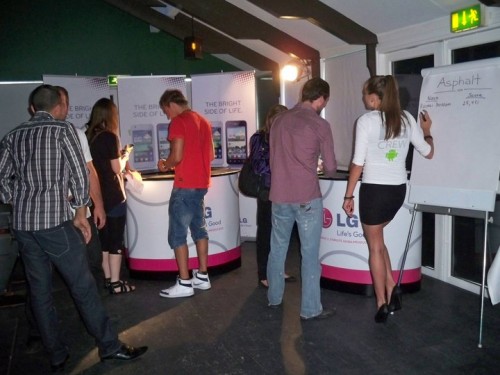 På aftenen havde LG lavet to konkurrencer. Vinderen af en Optimus Black blev fundet ved at deltagerne kunne spille Asphalt 6 i 3D.
Mobile Relate stod samtidig for en SMS konkurrence hvor deltagerne skulle svare på 3 spørgsmål om Optimus 3D. Den heldige vinder får den allerførste Optimus 3D der lander i Danmark.
Lucky Bastard.

Mit job i den forbindelse var at monitorere konkurrencen og trække vinderen, men der var heldigvis rig mulighed for at benytte sig af den LG sponsorerede fri bar.